Acute water shortage has hit the city's real estate sector and this is likely to delay housing projects. The development comes at a time when the realty market in Chennai was reviving after a slump of more than five years.
While developers are raising concerns over depleting water sources, private water tankers, prime source for the construction sector, have cut down supply amid spiralling demand from residents.
Water supply for construction on the water-deficit OMR has dropped by 50%. City-based developer C Chandran, who is executing a housing project of 100 units at Thoraipakkam, said the project has progressed 45% but water crisis has come as a stumbling block.
"We have slowed down construction. We are at a crucial stage and require about 50,000 litres of water a day, but only 24,000 litres is available," Chandran said. Accessing quality water has become a herculean task. "We have pushed the completion to May next year, an extension of four months due to water scarcity," he said.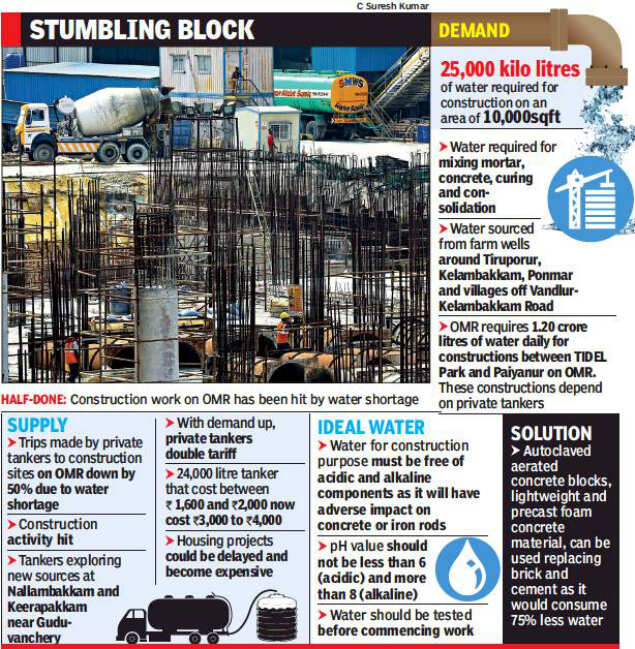 Construction sites on OMR consume 1.20 crore litres of water daily. The requirement for massive constructions in the south and parts of central Chennai is met by private tankers that source water from farm wells around Tiruporur, Kelambakkam, Ponmar and villages off Vandalur-Kelambakkam Road. With the groundwater in these areas depleting, tankers are exploring new areas leading to dip in the number of trips.
Tamil Nadu Water Lorry Owners Association coordinator P Saravanan said wells at Nallambakkam and Keerapakkam located near Guduvanchery are the fresh sources. "Several of their erstwhile agricultural pockets have been urbanised and we need travel to interior localities to tap water. The distance has increased and drivers cannot make more than three trips a day. When desperate builders seek water, some tankers hike the tariff," he said. While a 24,000 litre capacity of water tanker supplies water for anywhere between Rs. 1600 to Rs. 2000, some private water tankers have jacked up the rates from Rs. 3000 to Rs. 4000 for constructions due to spiralling demand for water from residents across Chennai.
According to construction sector sources, the Chennai Metropolitan Area covering the entire city and suburbs of Kancheepuram and Tiruvallur districts is witnessing constructions of nearly 300 massive housing and office space projects. This apart, an independent house is being built on every second street in the city. Approximately 25,000 kilo litres of water is required for a construction on 10,000sqft. Water is used in different stages of construction such as mixing mortar, concrete, curing and consolidation.
Confederation of Real Estate Developers' Association of India (CREDAI) Chennai chapter vice-president S Sridharan said providing water to workers at construction sites has also become an issue of late. "Already, we are under stress over inadequate water supply. If the situation continues, it would lead to further slowdown in constructions in Chennai," he said.