The Visakhapatnam Metropolitan Region Development Authority (VMRDA) has given final plan approvals to 160 layouts for the last three years since the introduction of the online AP Development Permission Management System in VMRDA precincts in 2017.
However, the number of layouts approved in 2020 is less compared to the earlier two years, i.e. 34 in 2020, 77 in 2019 and 49 in 2018.
The urban development authority accorded building plan permissions to 220 buildings in these three years. VMRDA earned a revenue of about Rs 44 crore by sanctioning these layouts and building plans.
According to the VMRDA officials, the APDPMS was initiated in VMRDA in 2017 to facilitate a quick and uniform approval system in a time-bound manner.
"While the timeframe is 15 days for issuing a building occupancy certificate, it is 21 days for giving layout permissions and 15 days for layout development completion certificate as per the new system," said a VMRDA town planning official.
Meanwhile, the VMRDA is processing the 5,716 applications it received under the layout regularisation scheme before the deadline ended on December 31, 2020.
According to VMRDA officials, 219 applications belong to individual plots, while plots pertaining to 1,202 applications are located in already-approved layouts. The VMRDA is preparing 144 in-principle layouts for 4,288 applicants. The remaining applications are under scrutiny of the urban development authority.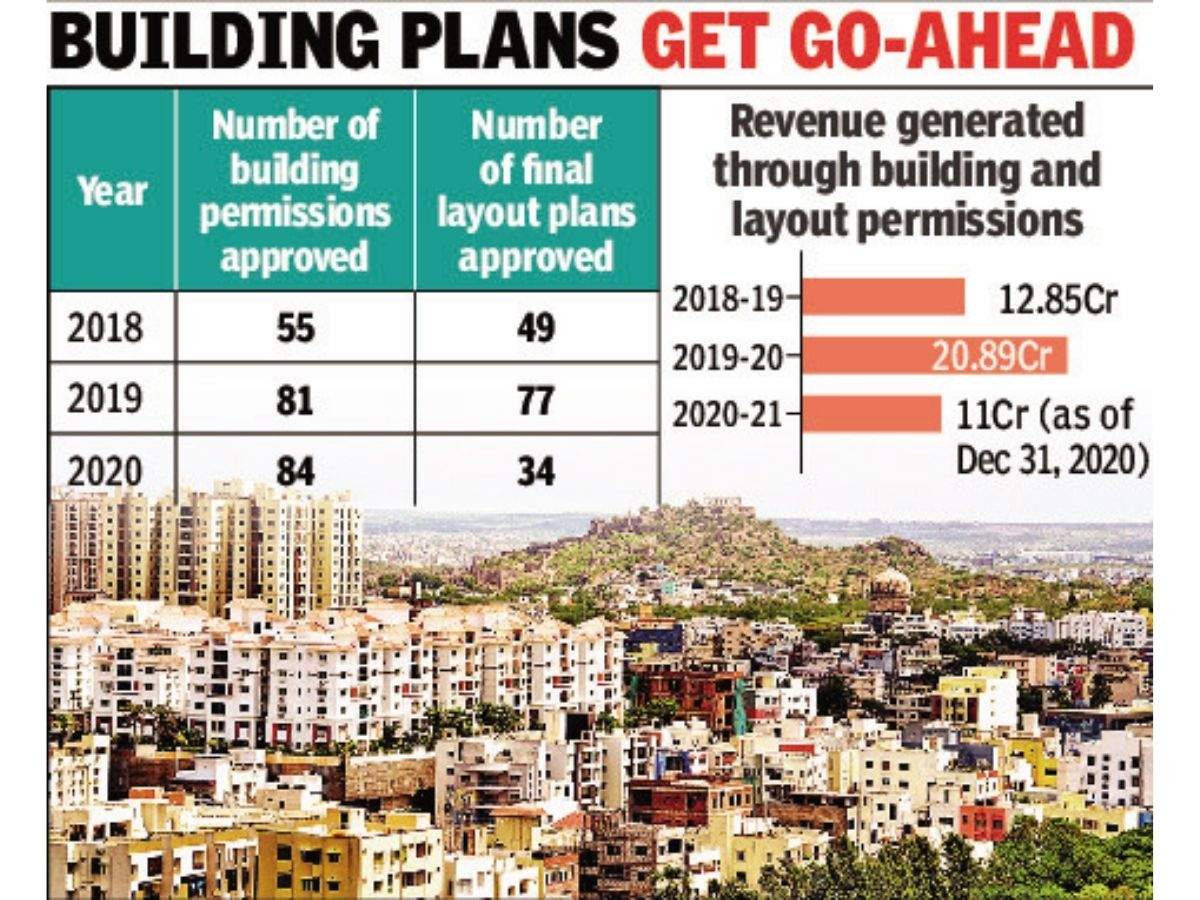 VMRDA metropolitan commissioner P Koteswara Rao said they conducted an awareness meeting on the LRS scheme for the applications. "The planning secretaries, licensed technical persons and the VMRDA officials clarified their doubts. Furthermore, the VMRDA has set up a dedicated helpline number #7337350117 for the LRS scheme applicants," said Koteswara Rao.
As per the guidelines of the LRS-2020, those individual plot owners or layout developers who have executed their registered sale deed before August 31, 2019 can apply for this scheme. The penalisation charges are fixed based on plot size and value of the land.
The charges will be calculated based on the prevailing market value as of August 31, 2019. The scrutiny of single plot regularisation will be done based on the in-principle layout pattern approved by the concerned competent authority.