As the spaces become more confined, carrying out excavation processes is becoming a challenging task. Mini excavators have emerged as the ideal solution. It is witnessing a steady demand because of its accessibility of performing high-level digging operations in confined spaces for varied applications of urban and semi-urban constructions. This includes trenching, digging, small canal works, sewage disposal, waste management, etc. lt is also finding demand in small scale municipal pipeline works, park maintenance, building basements, etc. Manufacturers are therefore focusing on the market needs and implementing technological modifications that cater to the customer demands. The newer mini excavator models are being equipped with advanced functions such as autonomous operability, telematics, full-rotation design, variable angle boom adjustment and many other features.
The ongoing building and infrastructural development in India are also expected to propel the market growth of mini excavators. One of the major draws of mini excavators is that you can use them for a slew of different tasks. There are different types of mini excavator models available in India used for carrying out a varied range of work across different projects.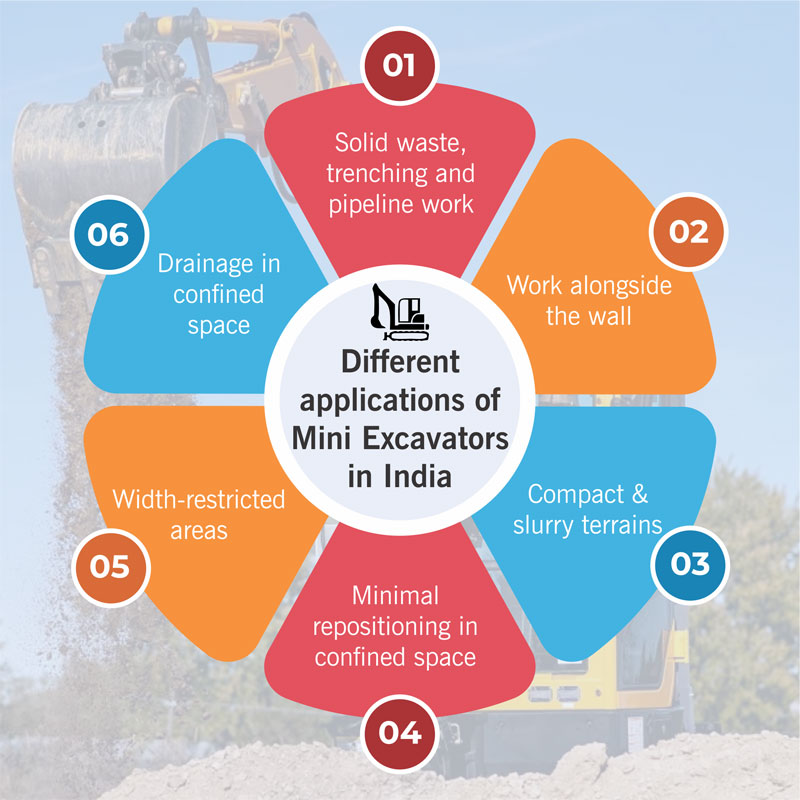 Applications of mini excavators in India
Mini excavator for work alongside the wall
Modern mini excavators offer boom swing, which assists in digging and loading in areas where full swing when working alongside a wall. The addition of a zero tail feature enables the operator to focus only on the front side operations in compact areas. It is also equipped with Control Swing Speed and Hydraulic Pilot Control System. The models feature a full-rotation (FR) design. This enables it to dig offset to the right or left without needing to reposition the machine, and it allows more of the counterweight to remain in line with the center of the machine for greater stability. The operator station is protected by a ROPS/ TOPS structure. Their compact design makes it easy to transport in conventional and mini light axle pick-up trucks. Sloped track frame tops are also added to the mini excavators for easy mud removal. All covers of the machine come with wide-opening for direct access to service points and improved serviceability. A cover adjacent to the radiator extends vertically for easy cleaning the radiator. The fuel refilling port is placed inside the cover to avoid dirt entry and fuel theft.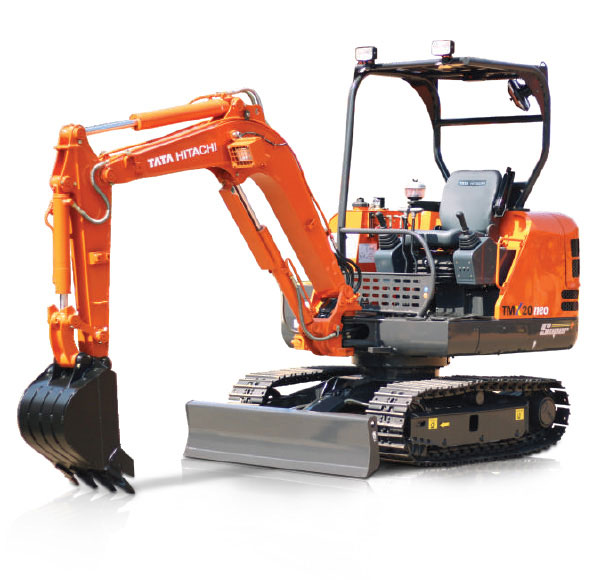 Mini excavators for solid waste, trenching and pipeline work in confined space
The range of modern mini excavators is equipped with Zero Tail Swing and King Post design that offers a unique advantage in confined spaces. The dial-type throttle control system is an added advantage. Mini excavators provide astounding features like operational efficiency, operator comfort and Advanced Telematics Technology. They also come with multiple attachments like soil drill, rock breaker, etc. The machines are being utilized for projects that include such as power, irrigation, real estate, pipeline laying, municipality and housing. Apart from delivering perfect performance in areas with restricted access, it also ensures high operator comfort with thin joysticks, optional AC cab and TOPS Canopy.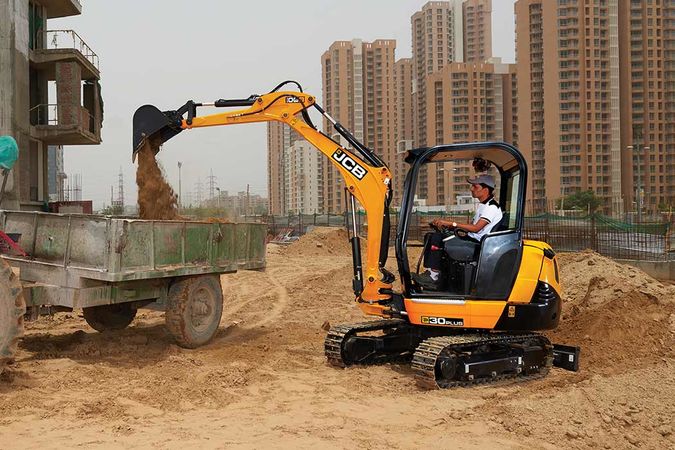 Mini excavator for compact & slurry terrains
The latest mini excavator is equipped with an advanced remote management system specially designed for the slurry terrain. These machines incorporated the ability of zero tail swing (ZTS), which offers trouble-free maneuverability, in congested spaces. Its boom swing and offset feature enables the machine to operate very close to the wall/building without repositioning the machine. The powerful mini excavator has a large cross-section boom and arm assembly, which comes up with a wider bucket option. The newer models have improved dozer speed for easy machine jack-up. The operator canb of the mini excavator features a self-diagnostic system, which comes with an informative colour display. The self-diagnostic system provides the operator accurate details of the machine, which significantly reduces the unforeseen repairs and maintenance cost.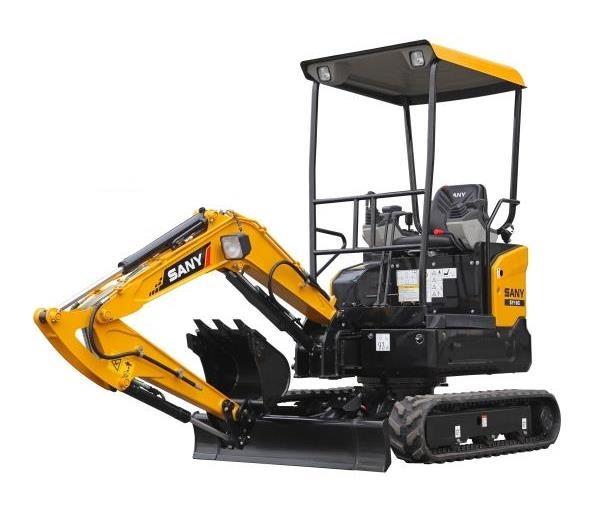 Mini excavator for width-restricted areas
There are mini excavators in India that come with a narrower stance, ideal if you frequently have to work around width restrictions such as doors or gates. The tail-swing of these mini excavators has a narrower stance for easier access through doorways, gates, property boundaries or other restrictions. The fingertip-controlled boom offers the double benefit of improved controllability of the boom swing function and also ensures enough space and comfort for the operator. The dozer blade and track extension are controlled using ergonomically configured, pilot-operated hand levers. The control switches on the left-hand console are also positioned for comfortable access.
Mini excavator for confined spaces for only minimal repositioning
The latest range of mini excavators can be used in confined spaces with the need for only minimal repositioning. The operator can hydraulically retract the undercarriage to a width of only 96- 98 cm to travel through gates or between walls and houses, then expand it to 130 to 136 cm for a wider footprint and greater performance. The mini excavators have zero tail swing for versatility and maneuverability on the most compact job sites. The optional fingertip-controlled boom offset and auxiliary offer the double benefit of improved controllability of the boom swing function and connected attachments. The machine offers a great mix of performance, stability, and operator comfort with a conventional tail swing.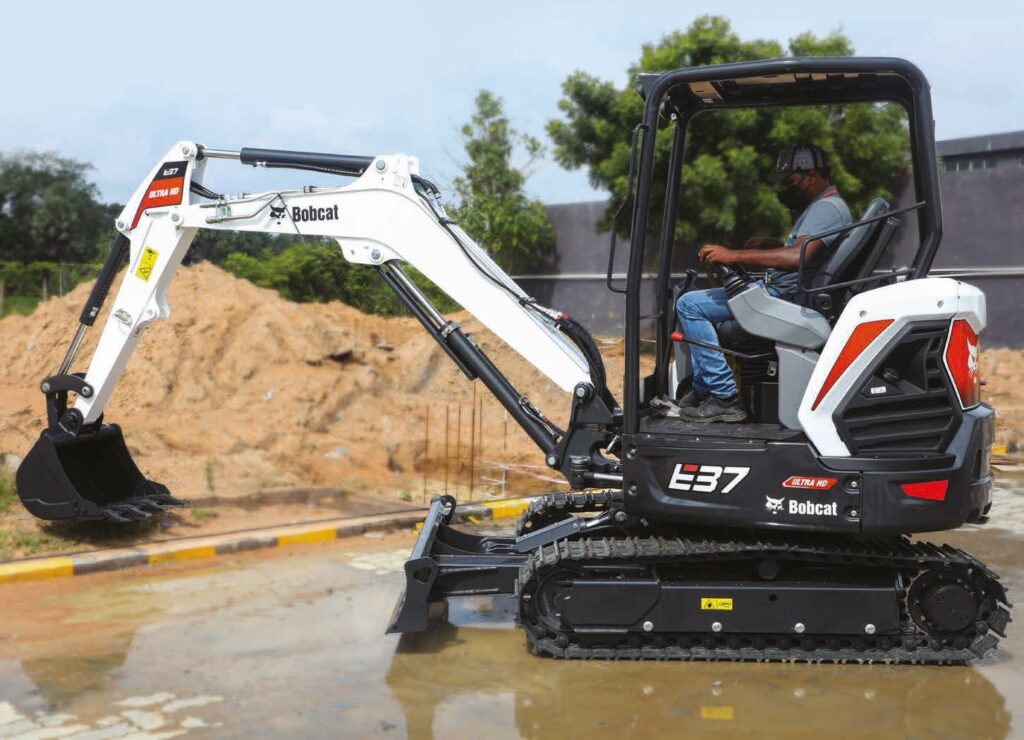 Mini excavator for drainage in confined space
There is the midsize 5-ton mini-excavator market that features a zero tail swing and well-balanced design, combining power and the versatility to tackle drainage work. The zero-tail swing always keeps the tail of the mini excavator within track-width when swiveling, enabling operation in tight and confined spaces. The boom-swing allows direct digging close to a wall or building without repositioning the mini-excavator. The user-friendly digital panel features a one-touch button operation to view the time, hour meter and tachometer. Warning lamps with code numbers on the display will alert you in case of emergencies such as overheating, hydraulic problems or low battery.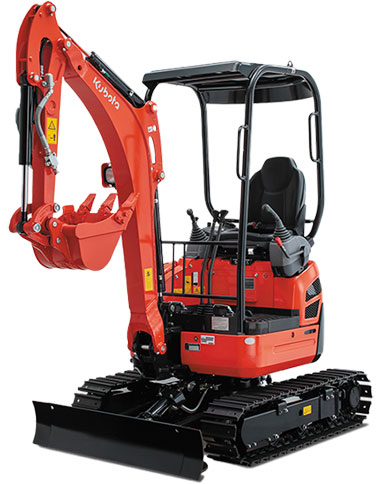 Conclusion
Within the mini excavator category, the 3T class has seen continuous growth over the past couple of years. The compact frame of the machines is also being enhanced by the zero tail which enables the operator to only focus on the front side operations when in compact areas. As discussed, there are different models of mini excavators in India that assist in performing a multitude of work across varied projects in India.