Cracks occur in the concrete over time despite good quality control. Cracks are one of the signs that indicate damaged or distressed structures. However, it is fortunate that not all cracks are a sign of structural failure. These cracks have to be repaired for two reasons viz., for structural purposes and durability purposes. Cracks in concrete are caused by several variables including water intrusion, expansion and contraction from seasonal temperature changes as well as sun exposure. Various factors contributing to the formation of cracks in concrete include deformation, hydraulic shrinkage, thermal shrinkage and swelling. The cracks in concrete cannot be prevented entirely but they can be treated by using adequate material and technique of construction and specific design criteria. Timely identification of such cracks and adopting preventive measures are essential. It is important to understand the type of crack formed and its effects on structural stability. Suitable methods and products for the repair of cracks in concrete can be selected based on the evaluation of the crack in the structure for its causes.
MC-Bauchemie India provides one of the most extensive and efficient product ranges for repair and products. The products are suitable for restoring various mineral structural elements at different crack widths, moisture conditions and application temperatures.
MC-Bauchemie India crack repair products
The company's product range comprises MC-Crackfill and MC-DUR Putty. Each of the products comes with its advantages and different conditions of applications.
MC-Crackfill – Ready to use fine repair mortar and crack-filler for external as well as internal surfaces
MC-Crackfill is a premixed, polymer containing fine repair mortar for external cracks. It is ideal for filling cracks, holes, gaps and cavities present in brick masonry, concrete and plastered surfaces. It is non-shrink in nature. It is suitable for non-moving internal cracks to be sealed for durability and aesthetic purpose. MC-Crackfill can also be used externally, provided it is sealed over with waterproof oil paint or varnish. It is an ideally suited material, which finds its application for non-moving internal cracks and possesses non-shrink property and can be easily applied due to its simple ready-to-use applications.
MC-DUR Putty – Two-component solvent free, moisture insensitive epoxy putty
MC-DUR Putty is a two-component, solvent-free, epoxy resin-based material in putty consistency with Special Moisture Insensitive properties. It has good adhesion to concrete, steel, and masonry. The cured Matrix has good resistance to water, corrosion, and chemical attack. It also provides good abrasion resistance and it is suitable for application to reservoirs, tanks, silos, portable waterworks, breweries, dairies, meat and food processing units.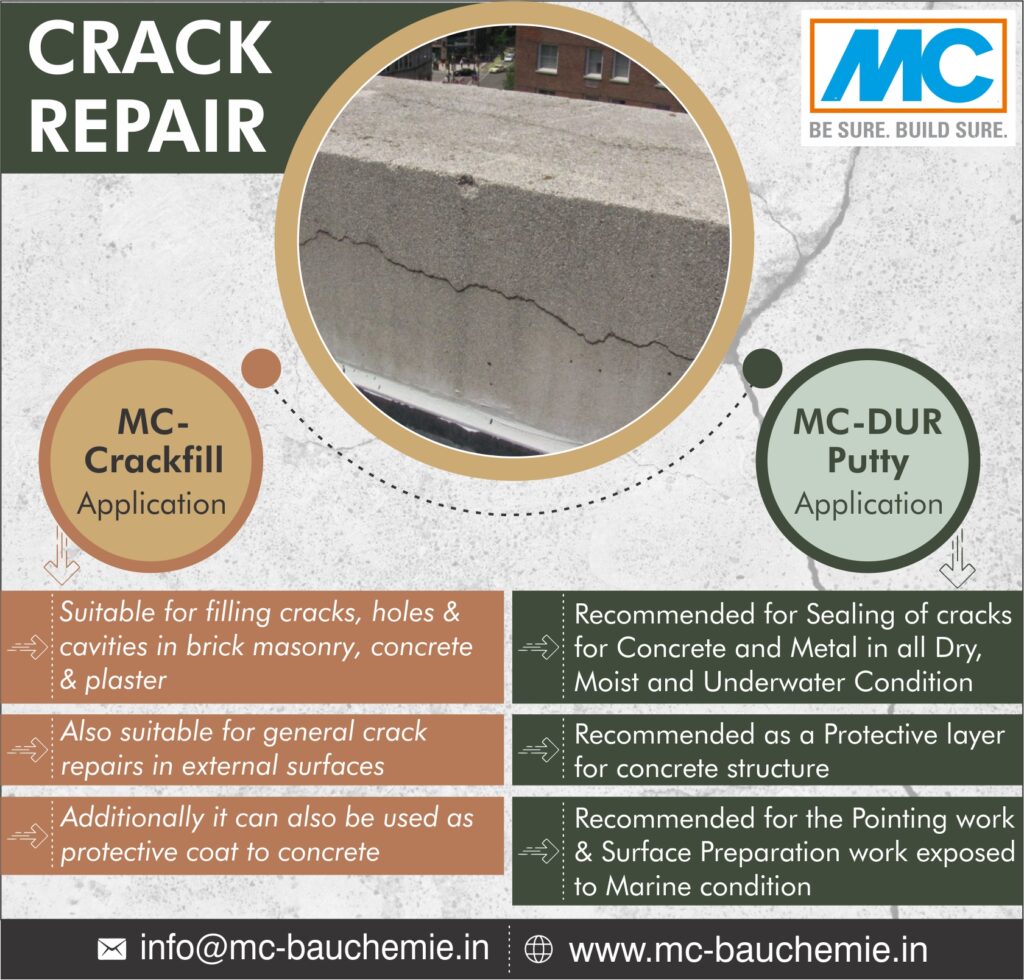 MC- Bauchemie India offers specifiers, planning engineers, clients and applicators time-saving, cost-efficient and reliable solutions specially formulated to meet the requirements described above. The company's injection technologies are aligned to the full range of applications encountered in structural and civil engineering – quickly and durably protect structures against water while also restoring them to stability.
To explore their full range of products, visit: www.mc-bauchemie.in