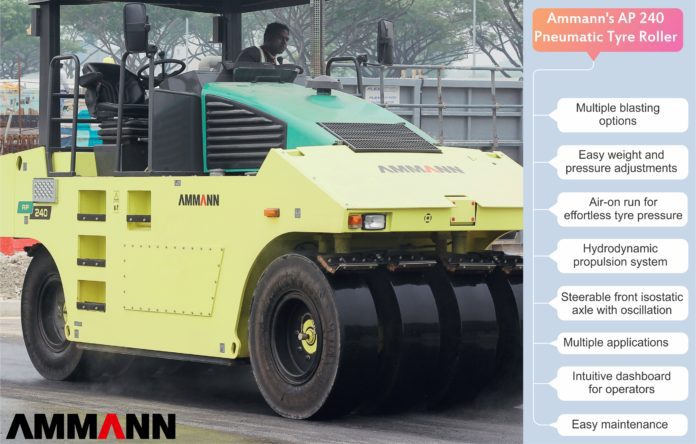 Pneumatic Tyre Roller for diverse job sites is preferred as its applications provide contractors with a better base before paving, achieve a better density or compaction and improve the look of the finished product. They have become more popular with stiffer mixes and for producing quality compaction density. Ammann India Pvt Ltd is providing world-class products to meet your project specification work. Ammann's Pneumatic Tyre Roller Model: AP240 is a good fit for a diverse job site. Ammann's AP 240 Pneumatic rollers can be used on several different projects such as subdivision streets, large parking lots, and driveways.
Operators would find the machine easy to control as it is very user friendly and easy to operate, it comes with a spacious cab. Everything can be easily managed by the operator through a control operation station. The optional Ammann Traction Control (ATC) boosts productivity on tough terrain. The proven hydrodynamic propulsion system and ensures productivity. Quality Ammann components and engineering enable reliability and long life.
The adoption of Pneumatic Roller particularly in the construction of roads is very necessary to avoid timely road damages, potholes, road breakage as a result of poor construction of the roads. Ammann's Pneumatic Tyre Roller Model: AP240 is fulfilling these needs. Some of its standout features are given below.
A ballasting range of 9 tonnes to 24 tonnes
Comes with an Air-on-run system, which the operator uses to adjust tyre pressure without ever leaving the cab.
The optional Ammann Traction Control (ATC) boosts productivity on tough terrain. The proven hydrodynamic propulsion system ensures efficiency. Quality Ammann components and engineering enable reliability and long life.
Steerable front isostatic axle with oscillation
Tyre widths and arrangement for consistent coverage and even weight distribution
Turbo-aspirated Cummins diesel engine Rear drive axle
Rigid frame
2 working stations
Intuitive control and handling
Exceptional operator visibility
Spacious, comfortable operator's console
Easy access to service points, drain ports and filters
Air-on-run for effortless tyre pressure adjustment; controlled from cab
Easy-to-adjust ballast
Concrete ballast of 2400 kg
Solid steel ballast of 6000 kg
Additional ballasting space of 3 m3 in frame
Ammann's AP 240 Pneumatic Tyre Roller Application areas;
Medium and large job sites
Transport construction (municipal and town roads, motorways, airfields)
Building construction (houses and industrial zones)
Asphalt mixtures up to 120 mm (after compaction)
Hydraulically consolidated mixtures up to 150 mm
Loam and clay soils up to 150 mm
Mixed soils up to 200 mm
Sand and gravel materials up to 250 mm