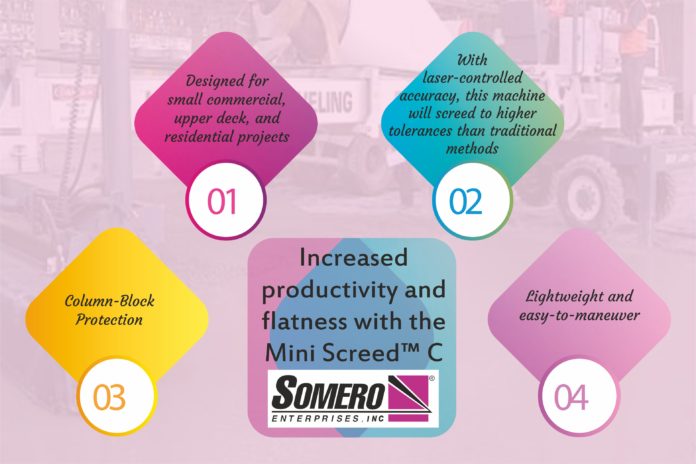 The need for flatter floors and faster output is in demand now more than ever. Long strip construction method is being adopted with laser screed technology for faster and flatter floors. Laser screed technology is capable of producing flatter and stronger laser screed floors.. Laser screed floors have set higher standards for concrete floors. Laser screeding is a fast process apart from being precise and powerful. This way more work is done daily with better quality and cost effectiveness. Somero® holds the patent for the Laser Screed® Technology.
Somero® offers customers equipment with unsurpassed quality and performance combined with unparalleled global service, technical support, training and education. They offer a wide portfolio of products that cover concrete slab placements in all types of construction projects. In addition, to equipment and software products, Somero also sells parts, accessories and provides service and training to customers to keep their machines up and running and operating optimally.
Advantages of Somero Laser Screed® machines
Somero Laser Screed® models help contractors produce concrete floors that are flatter and stronger than those produced by more conventional screeding techniques. This new technology has changed the concrete industry by raising the standards and client expectations for concrete floors. Some of its advantages are-
Flatter floors
Less manual effort
Greater accuracy
Faster placement
Somero Quick GradeSet System™
Lightweight and versatile
Column Block Protection
OASIS Laser Control System
Auto valve calibration for consistent, unsurpassed performance
These are few of the advantages of Laser Screed® machines. All of these benefits allow you to increase productivity, efficiency, and quality of each and every job. Using this equipment can also lead to a reduction in labor costs since the technology allows for faster placement and reduced manual labor. Ultimately, laser screeds can help concrete contractors increase their profits as they are able to produce better quality work in less time.
BENEFITS FROM A HIGH-QUALITY SOMERO LASER SCREED®FLOOR?
There are two-way advantages for the owner and end-user with Laser Screed® floors.
The Owner
Lower long term operational costs related to joint maintenance & repair
The building becomes more valuable & versatile long term asset
Shorter construction schedule & speeds up building revenue generation
The End User
Lower use-costs & operational disruption related to joint repair downtime
Lower use-costs related to lift vehicle repair
Lower damage goods costs
Higher productivity/Increased Throughput