In a bid to ensure that builders fulfil the promises made to homebuyers in ads and sales brochures, the Karnataka Real Estate Regulatory Authority (K-Rera) has asked builders to submit a self-declaration affidavit specifying all details, which will then be verified on-site by authorities.
The earlier system of self-declaration required a developer to upload only four documents on completion of the project on the K-Rera website.
"We have introduced a self-declaration affidavit which they (builders) need to submit soon after the completion of a project, giving all details, including the status of amenities such as water and sanitary connections. Later, we (K-Rera) will conduct the spot inspection to verify that all things are according to the declaration," said K-Rera secretary KS Lathakumari.
Due to loopholes in the earlier system, builders could sell unfinished flats by producing four documents, namely the OC. There are instances of projects getting completion certificate without ensuring basic amenities like lifts, painting and floor work.
As many as 840 projects have been declared completed as on October end and estimated 30% of them have complaints against them of being unfinished. With thousands of complaints pouring in, K-Rera has come with the new module.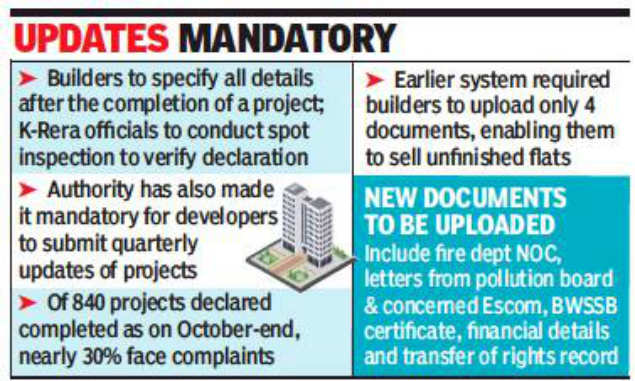 The documents builders now have to upload include no-objection certificate issued by the fire services department, consent for operation from pollution control board, sanction letter issued by the concerned Escoms for power connection and the details of the installed transformer, certificate issued by BWSSB on the working status of treatment plant and the details of external infrastructure such as driveway, play area, garden and water availability.
Quarterly updates of projects mandatory
The builder must also provide financial details, including the status of the bank account, to explain the cost of the project. The document of transfer of rights to the association of apartment owners, which is seen to be the final formality of the transaction, also needs to be uploaded.
Earlier this year, RERA-K made it mandatory to publish the agreement of sale wherein the developer clearly mentions the date of completion and details of carpet area separated from built-up area. If the builder fails to deliver the project within the declared deadline, penalty can be imposed and compensation has to be paid to homebuyers with 12.75% interest for the delayed period. The declaration of carpet area separately ensures buyers are charged for the built-up area only.
The authority has also made it mandatory for developers to submit quarterly updates of the projects.
"Rera-K still has a long way to go and the government should give more powers to take on the erring builders like attachment of properties. As of now, it relies on the revenue department to attach properties," said MS Shankar, general secretary of Forum for People's Collective Efforts.