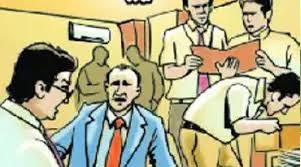 Income Tax (IT) department raided the house of a real estate businessman living in Kalyanpur area of the city on Wednesday morning. Real estate businessman Rakesh Yadav lives in Navsheel Dham of Kalyanpur. On Wednesday morning, IT sleuths raided his house.
The connection of Rakesh Yadav's company with Ghanaram Infratech Company has come to the fore. The IT team is investigating the documents related to the company.
As per the sources, the Income Tax Department had received a complaint of rigging by Ghanaram Infra Company in the name of getting the denomination of lands done with the help of forged documents.
Following which, a team of the Income Tax Department conducted raids simultaneously at various locations including Kanpur, Lucknow, Delhi, Jhansi of the company. Subsequently, a team of the Income Tax Department raided Rakesh's house on Wednesday morning.
Heavy police force remained deployed outside Rakesh's house throughout the raid. However, it could not be confirmed whether the real estate businessman Rakesh was present in the house during the raid.