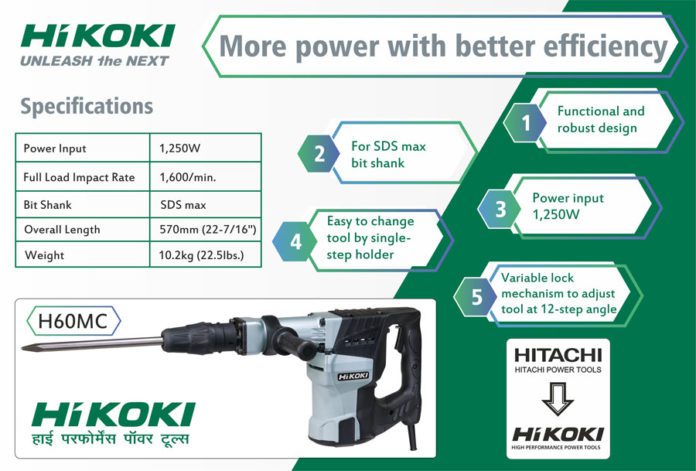 With the advancement of technology, the power tools have emerged as one of the most popular choices of workers in the construction and other industries. Power tools are used to perform advanced tasks. Power tools are capable of performing many complex tasks that become difficult with hand tools. Angle grinders, rotary drills and orbital sanders and Impact drills are some of the common types of power tools. Choosing the right power tool for your work is very important, therefore it's better to opt for a proven brand. One such brand is HiKOKI. It is an ISO 9001:2015 certified company (Formerly known as Hitachi Koki India Private Limited).
Quality, precision and reliability of HiKOKI power tools
HiKOKI has made a rapid revolution in the Indian market with a wide range of power tools and related accessories, as well as outdoor power equipment which caters to various industries like construction, wood, and metalworking. They market Power tools and accessories under the brand HiKOKI, Metabo, Hitman and carat. Hikoki is one of the biggest players in the Power Tools business in India and it offers innovative, high-performance, and high-quality products and services that result in high-level customer satisfaction.
They have a wide range of products, in this feature-article, we have focused on HiKOKI H60MC Demolition Hammer. Its material is metal which comes with the colour green. The dimension of the power tool is 570. The tool is easy to use and comes with an easy to change tool by the single-step holder. H60MC' has a Power input 1,250W which Includes side handle and carrying case. Overall Length of the power tool is 570mm (22-7/16″). The Full Load Impact Rate of the power tool is 1,600/min.
HiKOKI power tools go a long way when it comes to increasing the efficiency of workers by simplifying their work. The company's power tools are capable of completing several construction tasks cleanly and without causing any major disruption. HiKOKI has its head office and manufacturing facility at Bangalore with 14 branches Offices and a distributor network of more than 600 dealers across the country, and more than 250 authorised service centres.