Industrial doors have to resist heavy traffic and hard treatment. Industrial doors, such as those found in warehouses and storage facilities, have to meet many performance demands. If you want to maximize energy efficiency in a climate-controlled atmosphere. BS EN 12604 specifies the mechanical requirements for industrial doors, such as strength and the factor of safety. This standard is important in assessing potential durability, as it requires manufacturers to state the number of cycles doors have been tested to.
Given below are different types of industrial doors that you can choose from.
Automated Entrance doors
Mainly used to enable quick access to a building, automated entrance doors are a beneficial option for businesses with a heavy footfall. Functioning through a sliding mechanism, not only can these doors open wide and make it easier for both staff and customers to transport large or heavy objects in and out of a building, but they also enable easier access for those with disabilities or mobility problems.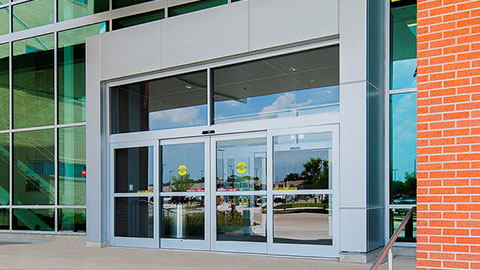 Roller Shutter doors
Mainly used to enable access to larger industrial buildings such as business units or warehouses, roller shutter doors are made up of a selection of horizontal slats that are vertically hinged together to form a solid door. They can be operated electrically or manually and are one of the most secure door designs available on the current market due to the fact that they often only permit access via remote control or motion sensor. As well as offering a number of different benefits, these doors are also ideal for those operating a busy working environment as they can be opened and closed quickly and efficiently and cause minimal obstruction.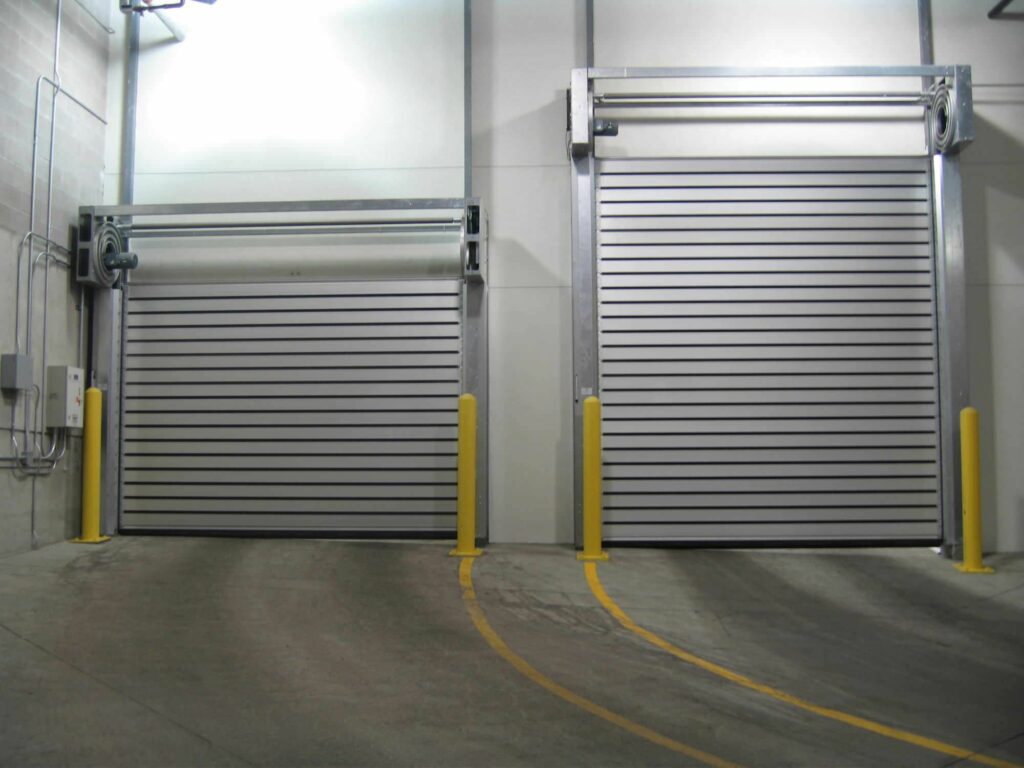 Folding Shutter doors
Essentially the opposite of roller shutter doors, folding shutter doors consist of vertical panels that are usually made from galvanised steel and linked together by large steel hinges. The door is hung from a lintel mounted heavy duty top track by double rollers fitted to alternative pickets and functions horizontally by opening and closing via a folding motion.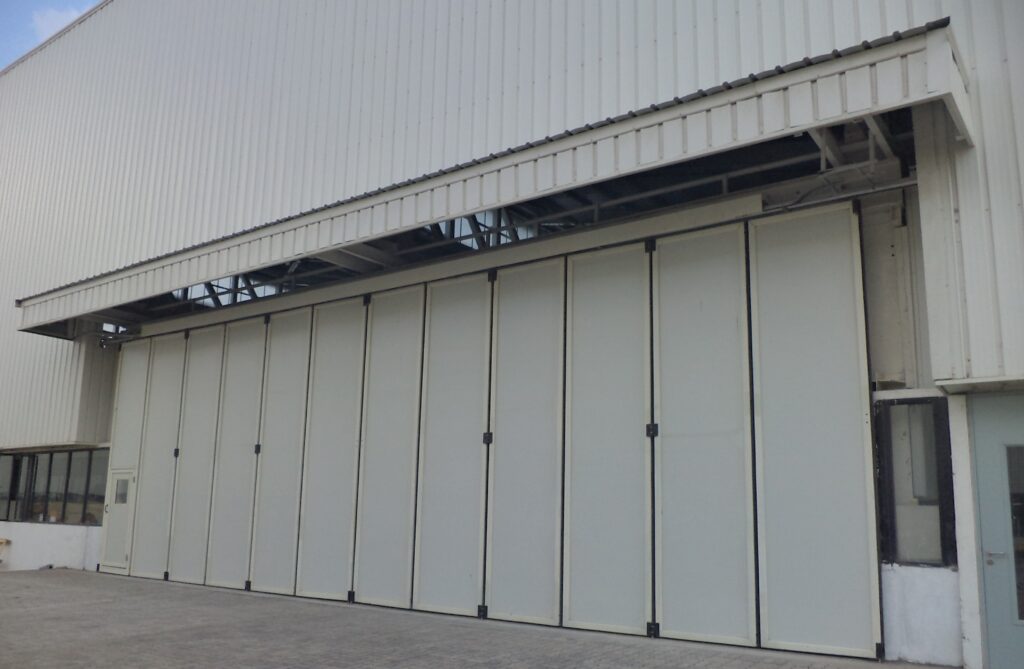 Rapid Roll doors
A popular option for businesses looking to be more energy efficient, rapid roll doors operate at an exceptional speed and consequently, help to conserve heat or cold air inside a building. While their fast, vertical operation is one draw of these innovatively designed doors, their durability also makes them one of the most suitable door types for industrial environments as they are both sturdy and long-lasting.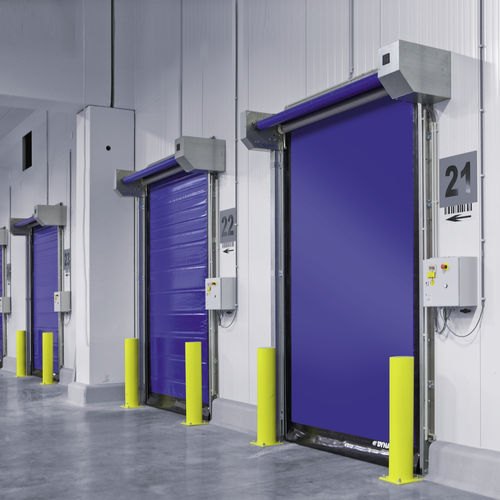 PVC curtain doors
PVC curtains are a lightweight and less expensive alternative that still provide protection for both products and staff. Consisting of overlapping heavy gauge strip, PVC curtains are hung from the top of doorways and can be used in conjunction with other external doors to provide an insulating yet flexible barrier that, unlike many other industrial entries, permits two-way visibility.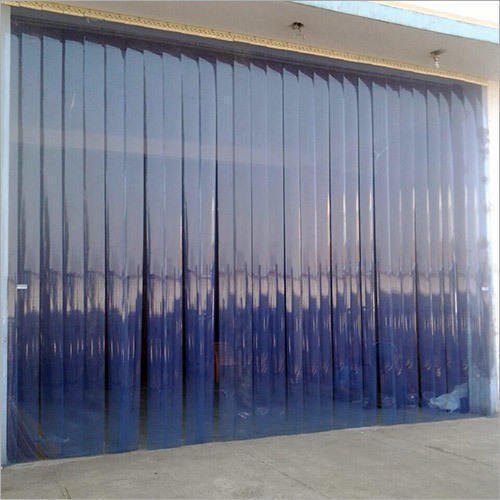 Sectional Overhead doors
Sectional Overhead Doors are similar in many ways to Roller Shutter Doors, mainly due to their vertical operation and ability to operate in a limited space. These characteristics also limit the potential for vehicle damage as the doors are effectively out of harm's way when open.
Sectional Overhead Doors are also constructed using larger sized slats, called panels. This panel design gives the opportunity to include visual panes and windows and also door access. These doors also have excellent thermal qualities and can act as an effective environmental control barrier which can help retain the temperature characteristics for sensitive business products (such as perishables).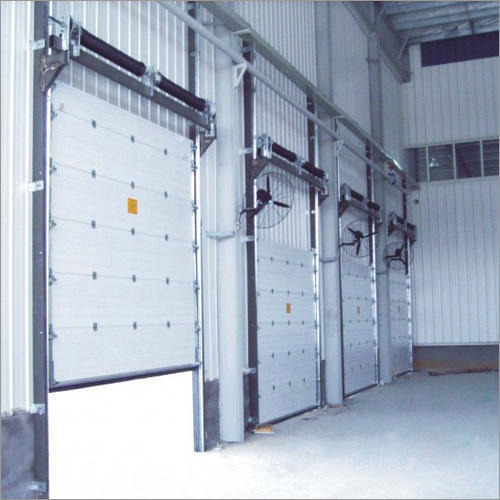 Folding and Sliding Doors
One of the simplest and easiest doors to maintain, a sliding door is a great way to maximise internal space in a building and great for very large apertures with pedestrian access using either a wicket door or partial opening when required. A sliding door is often fitted externally but can be internally fitted. Fitted outside, it has no impact on the internal space.
Straight sliding doors usually have a steel straight top track with wheels rolling inside for sliding doors up to a certain size, after which bottom rollers will be specified. Some of the largest straight sliding doors can be operated manually with a simple push or pull of the door lanes but of course and sliding doors can be automated as well.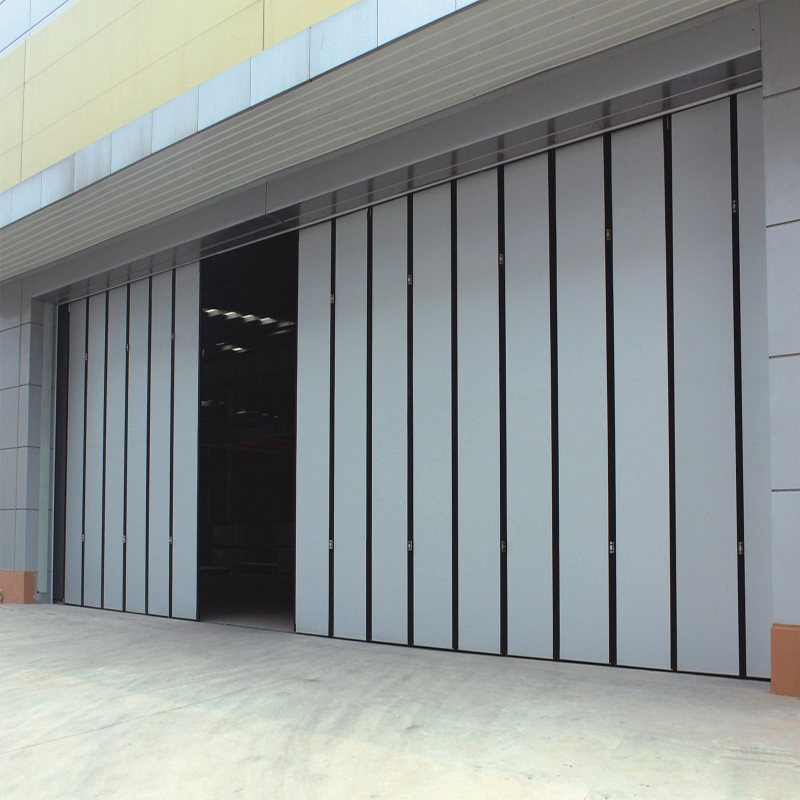 Fire Protection Doors
Any door type which has been tested and certified to be able to prevent the spread of fire in a building, These are typically hinged doors and roller shutters but we also provide fire sliding doors as a solution and a good one too. These types of doors and shutters are the perfect solution where fire protection is needed alongside security.
These have a wide range of uses, from blocks of flats and apartments where fires can easily spread, to factories where machinery and equipment can cause fire hazards.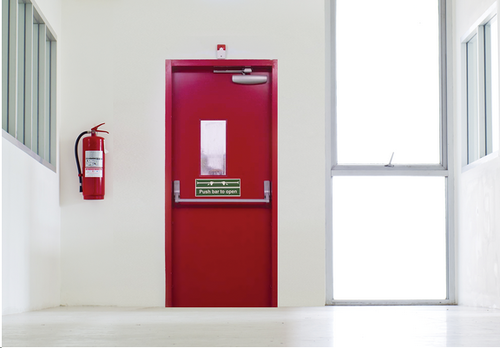 Strip Curtain doors
Far cheaper than other industrial door types, PVC strip curtains offer an economical way of separating production areas while providing some protection against heat loss and protecting products and staff.
They are often used to avoid cross-contamination in food production as well as pharmaceutical production areas. Because they can withstand extremely cold temperatures before the PVC material breaks, strip curtains are also widely used in cold storage areas and commercial freezers.
Fast Action Doors
The fast action or dynamic door is a self repairing rapid roll door with an opening speed that can be defined to your requirements. This means that this type of door is perfect for high traffic areas opening quickly giving you smooth traffic management. The door is low maintenance and cost effective, with the curtain on these doors can also be made to re-seal if hit by traffic, which dispenses with the costly call out of engineers and keeps your operation active.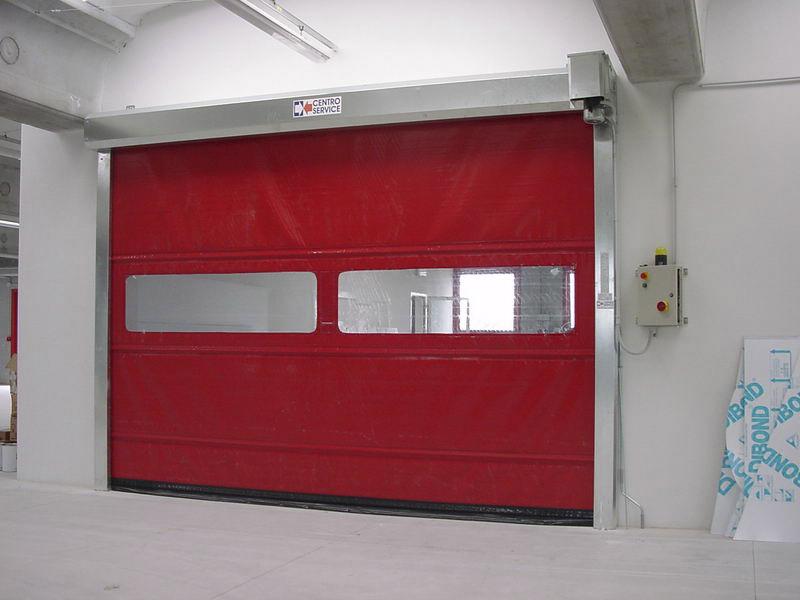 Scissor Gates doors
Scissor gates doors operate in a completely different manner than overhead, fire rated, or roll up doors. Using a unique design scissor gate doors move from left to right (or vice versa) like a sliding door and lock like a normal door once closed. They are constructed from high quality impenetrable steel in order to give you ultimate protection. If used for an outside entryway scissor gate doors work really well. For any inside walkway, however, they act best as reinforcement for a standard garage door.
High-speed doors
High-speed doors are available in many varieties, including roll up and sectional doors. The primary advantages of high-speed industrial doors are that they increase productivity, safety, energy efficiency, and security while having a lower maintenance requirement compared to other types of industrial doors.
If you have a warehouse that you want to keep climate-controlled and sealed from the outside as much as possible, or want a warehouse door solution that you won't have to worry about maintaining overly much, then a high-speed door might be a good option.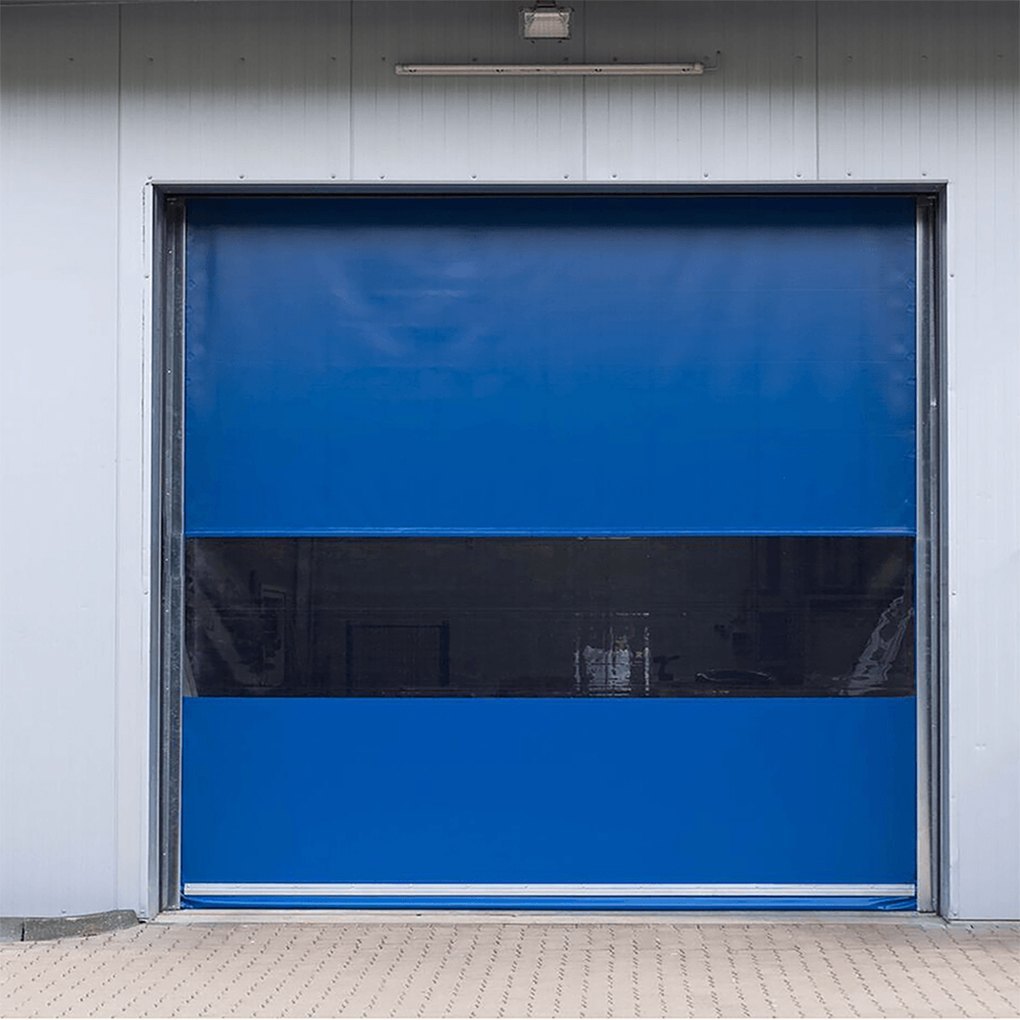 Bug screen doors
Bug screen doors use a fine mesh material to keep insects, birds, and other pests out of a warehouse while letting fresh air in. These types of doors are often desirable for facilities where air flow is a major concern. When placed at different ends of the facility, screen doors can allow for a cross breeze that helps make the distribution center cooler – reducing money spent on climate control while making the workplace more comfortable.
Roll up doors
Roll up doors are typically made of aluminum or steel and consist of many small sections – kind of similar to a sectional door but with narrower joints. At least, that's the appearance from the exterior. There are a few key differences between the two beyond the width of each section of the door.
For example, where sectional doors typically require a track suspended from the ceiling to pull the door along, roll up doors are, when open, stored in a coil above the door opening. This helps to save some room in the warehouse dock area.Roll up doors help to provide excellent climate control by sealing the doorway when closed and are far more adjustable for opening height than sectional doors.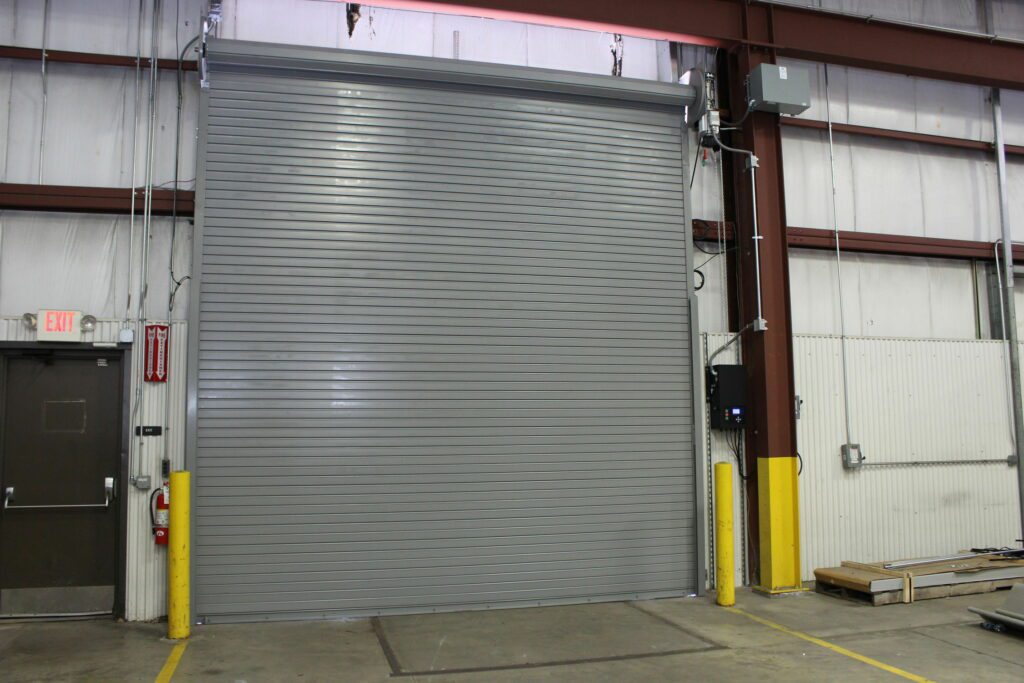 Conclusion
Industrial doors need to oppose overwhelming and hard treatment. Industrial doors, such as those found in distribution centers and storage facilities, need to meet many numerous execution requests. Choose wisely as per your facility requirement.