Crawler cranes are known for their versatility. They are easily transportable, manoeuvrable, and can be easily rigged. They are being used extensively in mining operations. Their high lifting capacities is one of the key technology characteristics driving demand in the crawler cranes market. Another key advantage over most other types of cranes is quick operability especially on soft ground. Crawler cranes are generally used for heavy lifting work and for large assemblies in building and construction sectors. Booms in the crawler crane are mounted on an undercarriage that is equipped with a set of crawler tracks that offer stability and mobility to the crane. Crawler cranes are capable of travelling with heavy load and can efficiently traverse soft ground without risk of sinking. Over the years, with the remarkable technological strides the crawler cranes market has seen, these have become more dependable, cost-effective, and increased in capacity substantially. A variety of configurations have also come to the fore for newer models, expanding the possibilities of crawler cranes technology for heavy industries.
Manufacturers are now focusing on technological advancements in crawler crane models that would address market demand. With the growing complexity of project needs, there is a need for technological modifications for better operational efficiency. From loading capacity to multi-activity everything is being modified to meet the need for the complexity of project sites. They are being used extensively in mining operations. Mounting environmental sustainability concerns are prompting key industries to opt for energy efficient solutions. Therefore, demand for battery-powered crawler cranes has increased substantially in the past few years. Additionally, conventional crawler cranes running on fossil fuels are also incorporating energy saving solutions to ensure optimum workflow. Over the years, with the remarkable technological strides the crawler cranes market has seen, these have become more dependable, cost-effective, and increased in capacity substantially. A variety of configurations have also come to the fore for newer models, expanding the possibilities of crane technology for heavy industries. There are different types of feature upgradation done in machine to cater to project demands each of them are discussed below.
Crawler cranes with "Boom Up-and-Down Aid' feature
Modern crawler cranes come with innovative self-assembly and self-loading systems that enable unloading and assembly without an auxiliary crane. For crawler cranes in this size category, more cost-effective transportation and quick commissioning play an instrumental role in inefficient operation. It also features a "Boom Up-and-Down Aid' feature that indicates the approach to the tipping border and automatically stops operation before the operator unintentionally enters an unsafe zone. It assists the operator in leaving the danger zone without having to activate the safety bypass switch. The ground pressure assistant incorporated constantly measures the exact position of all moving parts. The new models are also fitted with wind sensors on the main boom and jib. Both the measured wind speed and the actual crane configuration are taken into consideration when calculating the current hazardous situation for the crane. Crawler cranes are fitted with a new cabin concept, which especially focuses on increased operator comfort. This is achieved through a modern air-conditioning system with improved airflow, an optimized field of vision and reduced noise protection.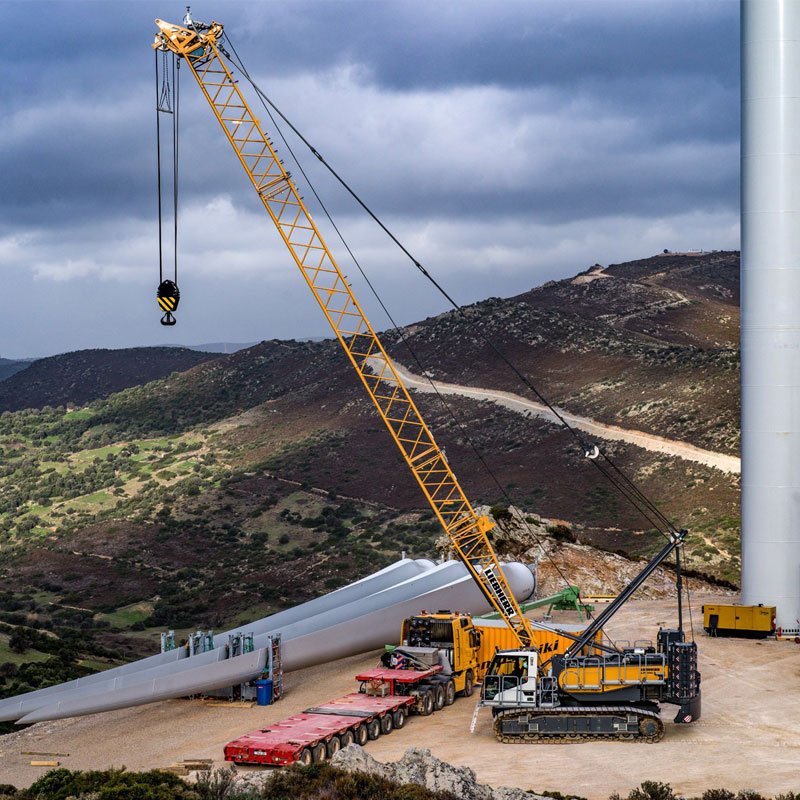 Crawler cranes with advanced hydraulic system
The hydraulic systems of modern crawler cranes feature variable displacement piston pumps. Two variable displacement pumps are used in the main hook hoist circuit, auxiliary hook hoist circuit, and each propelled circuit. One of the other two pumps is used in the boom hoist circuit and third hoist circuit. It is also incorporated with a full-flow hydraulic control system for infinitely variable pressure to the front and rear drums, boom hoist brakes and clutches. Controls respond instantly to the touch, delivering smooth function operation. The lower structure is steel-welded. Crawler assemblies are designed with a quick disconnect feature for individual removal as a unit from axles. Crawler belt tension is maintained by hydraulic jack force on the track-adjusting bearing block. Independent hydraulic propel drive is built into each crawler side frame. Each drive consists of a hydraulic motor propelling a driving tumbler through a planetary gearbox. Hydraulic motor and gearbox are built into the crawler side frame within the shoe width.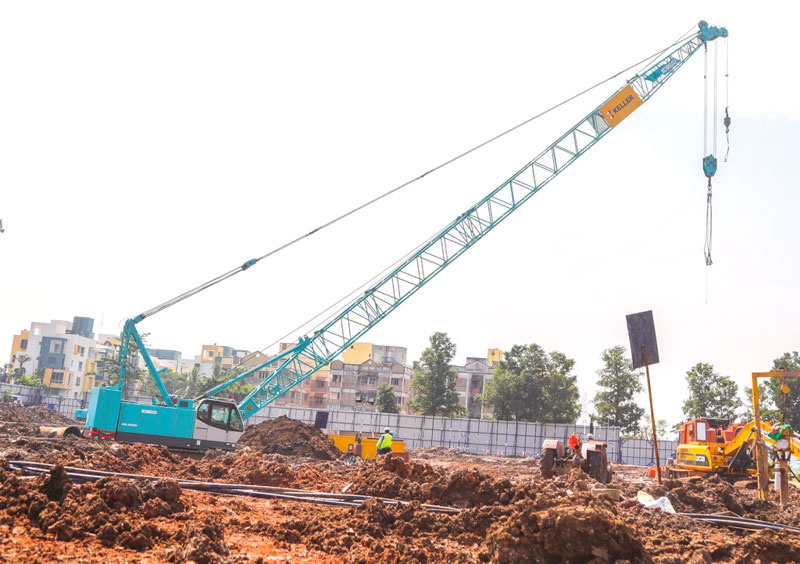 Crawler cranes with integrated control system
Crawler cranes now come with an integrated control with higher integration, precise operation and reliable quality; The control system consists of a power system, engine system, main control system, LMI system, auxiliary system and safety monitoring system. The working parameters and status are shown on the monitor, such as the engine speed, fuel volume, engine oil pressure, servo pressure, wind speed, engine working hours, lifting conditions and boom angle. Boom hoist winch is driven directly by the motor via the gearbox. Operating- winch handle can control the winch to rotate in two directions, which are lifting and lowering of the boom. The main and auxiliary hoist winches are driven separately by the motor via the gearbox. Operating the winch handle can control the winch to rotate in two directions, which are lifting and lowering of hook.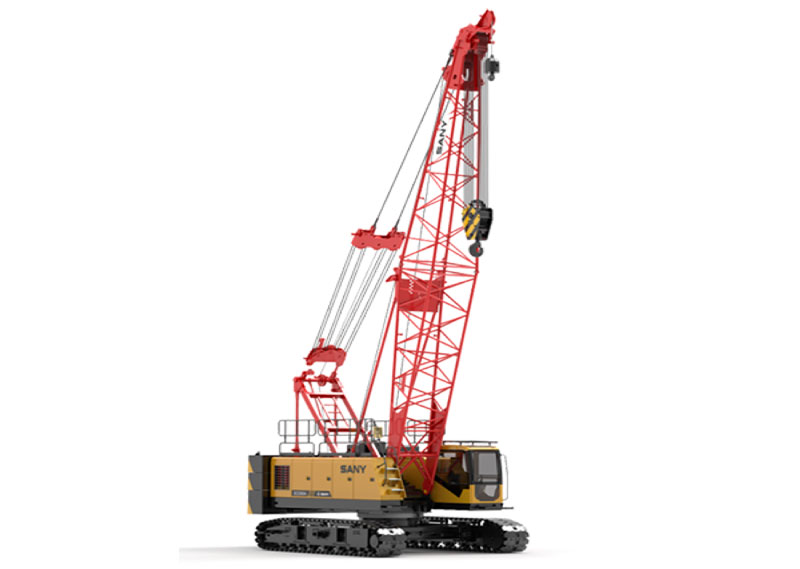 Crawler cranes with load sense systems
Crawler cranes now adopt hydraulic proportional pilot control load sense systems to achieve load-independent flow distribution, with accurate velocity, sensitive operation, stable system and good fine movement. The main winch and auxiliary winch have a double-pump combined flow function, to easily realize winch high/low-speed control. Special slewing buffering circuit design, to realise stable slewing start and stop to meet the requirement of the delicate lifting operation. The newer models come with integrated design to reduce failure points, while reserve open space for assembly/disassembly and maintenance. Slewing unit and slewing ring are driven by internal meshing, arranged in front of turnable, through a planetary reducer driving a constant motor via pinion to drive slewing ring, to achieve 360° rotation. The models widely use mechanical, electronic, hydraulic and other safety and alarm devices, to ensure safety operation.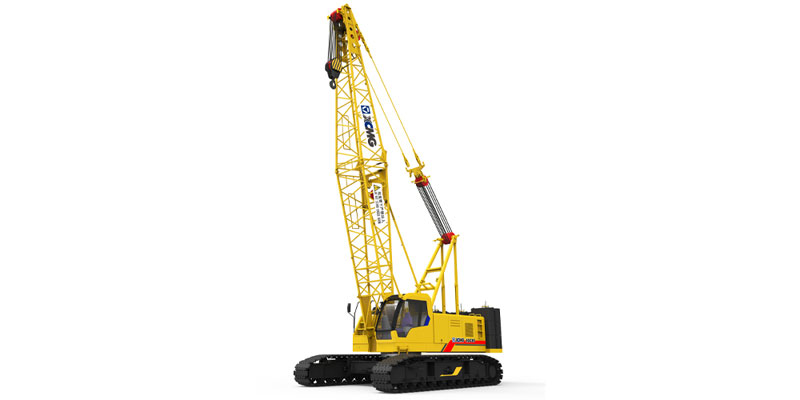 Crawler crane with Variable Position Counterweight
The newer models now feature a counterweight system that automatically positions the crane's counterweight as required to match lifting demands. Crane lifting capability is optimized by automatic positioning of the counterweight; eliminating the need for the counterweight. Additionally, counterweight boxes are designed to be common across multiple crane platforms and are utilized on the latest models. The Crane Control System offers a user-friendly interface, two full graphic displays mounted horizontally for better visibility, a jog dial for easier data input and ergonomic joysticks. Capacity and boom and jib combination lengths can be increased through the addition of the exclusive variable position counterweight attachment. The models also feature a removable live mast shipping module and boom inserts designed to allow luffing jib inserts to ship within the boom inserts for cost-effective transport.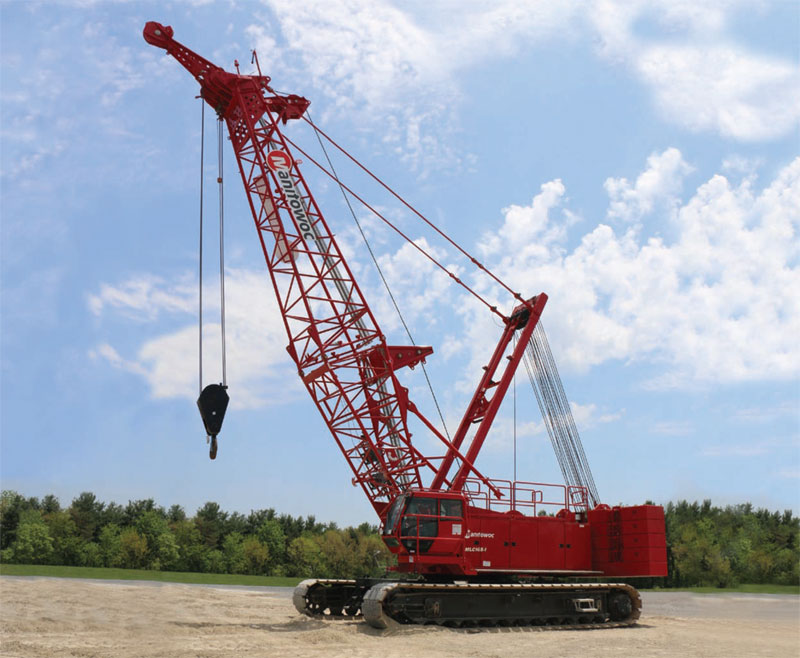 Mini crawler crane with compact tracked footprint 
The modern mini crawler crane boasts a lifting capacity of up to 2.93 tonnes and is the ideal machine for operating in busy city centres where installation space is restricted. Benefitting from a compact tracked footprint without the need for outriggers, this mini crawler crane has a maximum working height of up to 9.1m and a pick and carry capacity of up to 1468kg. These cranes are compact yet powerful lifting across uneven terrain. Our range of mini crawler cranes brings together the ultimate combination of compact size and heavy-duty lifting power for working on rugged terrain or congested sites. They are ideal for lifting and handling jobs at construction sites, inside factories for installing machines, monuments maintenance etc.
Conclusion
Different types of crawler cranes available with different features are discussed above. There is a need for crawler cranes to have a higher lifting capacity, longer working radius, and a small working footprint, besides pick and carry capabilities, when required. The rising construction activities, improvement of road networks and growing investment in new infrastructure projects in India The rising demand can be attributed to the ability of crawler cranes to lift extremely heavy objects safely and economically. Based on application, the construction and mining segment has the most demand for crawler cranes in India. Crawler cranes are also becoming increasingly popular in the market as tunnelling works for underground railway systems increase.
Image Source: www.liebherr.com/en/, www.kobelco-in.com, www.sany.in, www.schwingstetterindia.com, www.tilindia.in