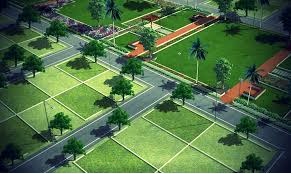 After granting free house sites to about 32 lakh poor in the state, chief minister Y S Jagan Mohan Reddy has now set his sights on giving house sites to the middle-income group (MIG) – middle-class and upper-middle class – at an affordable price.
The government is readying layouts for the sale of affordable plots in all municipal towns and cities. Urban Development Authorities (UDAs) in the respective districts have been designed as the nodal agencies to take up the MIG smart township projects.
The chief minister will launch the first layout in Navulur village near Mangalagiri on Tuesday. The Capital Region Development Authority (CRDA) has spared about 81 acres of land in Navulur village for the MIG housing project under Jagananna Smart township.
The CRDA would create the required infrastructure in the layout, including the laying of 40 feet roads, drainage, electricity supply lines and drinking water facilities. Each plot would have an area of 200 square yards. The plots would be allocated by drawing lots from among the applicants.
"The price will be fixed after the creation of basic infrastructure. The plots will be offered on a no-loss, no-profit basis as per chief minister Y S Jagan Mohan Reddy's vision," said CRDA commissioner Vijayakrishnan. She said they would also develop a children's park, schools and other required infrastructure in the layout.
The state government is contemplating to hand over the vacant and open government lands to the respective urban development authorities to create MIG smart townships.
Initially, the government wanted to sell such vacant sites through the National Building and Construction Corporation (NBCC) to pool money. However, it was stalled following court cases.
The state government is of the view that it is unable to protect its vacant properties from the encroachers and hence these may be disposed off either through direct sale or as housing sites in smart townships.