The term 'façade' can refer to any predominantly vertical face of a building envelope. A facade can enhance and transform the look of a building. It is durable and sustainable but also more energy-efficient, which has a positive impact on the environment. The facade combines attributes of both appearance as well as superior performance in a manner, unlike any other building system. It is often the most important aspect from a design standpoint, as it sets the tone for the rest of the building. With time the facade has gone through an evolution, today there are so many types of options available. Technological innovations have led to the development of energy-saving facade materials. These advanced products absorb solar energy and find widespread adoption in many commercial and residential buildings as a secondary source of electricity generation. Clay facade is one such type.
Clay facades are nothing but panels made of terracotta that can be cladded to the exterior walls or facade of any building. Clay facades are the outcome of sophisticated technology and advanced firing processes and hence are highly resistant to the exterior environment. When compared to paint, which can look smudged with dust and dirt, clay facades, retain the colour for a longer period. They have an edge over the conventional facade materials such as steel, glass, and aluminum with their minimal maintenance and highly durable features. The sustainable elegance of a clay facade increases the appeal of all the modern buildings and also lowers the air-conditioning and/or the heating costs
The efficiency of Clay as facade material
In today's world of engineering advancement, the facades of buildings have found a unique place in terms of priority when it comes to construction. The mere beauty is not the only contributing factor that a façade can make towards the construction of the building, but also various other factors that can help this single element play a crucial role in the construction or post-construction stage. Clay facade is one such material used around the world as a construction material, most commonly used. Clay is also an important ingredient in composite materials such as adobe, cob, rammed earth, wattle and daub, clay plaster, clay mortar, ceramics, and so on. Clay has good robustness, stability and durability. It is fire-resistant and capable of withstanding seismic activity, giving it a potential lifespan of 100 years or more.. It also has a life span of 100 years. It is also weather-resistant, earthquake-proof and fire-resistant.
If you are planning to build a sustainable structure for your office since they are made of natural resources and are energy-efficient. Clay is composed of clay minerals (such as iron oxide, feldspar, calcium carbonate, magnesium carbonate, silicon dioxide and alkali-metal compounds) as well as soluble salts and organics, the latter of which severely affect the quality of terracotta panels. The type and usability of clay are greatly dependent on its geological location. Different kinds of clay are different in chemical composition, mineral composition, particle size and plasticity. Those differences have a direct impact on the drying and calcination conditions. Single clay facades are entirely from natural raw materials derived from a sustainable source to create a pleasing effect inside the building.
Clay façade systems offer an opportunity to experiment with colours, styles and finishes that can lend a touch of singular beauty to the building. These façade plates are colour fast and will not deteriorate. Your façade´s charisma will give you lasting and enduring pleasure. Sophisticated firing processes and selected clays are key constituents in the production of natural fired colours. Their outstanding feature is their quality and weather resistance.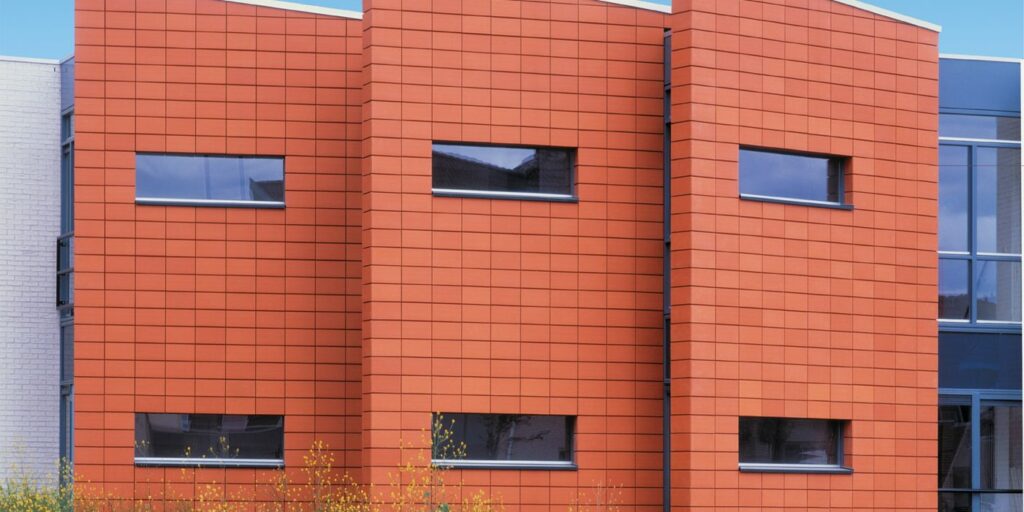 Advantages of clay facade
With the advanced firing processes and technology, the clay facades are made in such a way that their timeless elegance is guaranteed to last for ages and surely, be timeless. There are several advantages of clay facades which are given below;
Durable
Provides thermal insulation
Secures comfortable indoor climate naturally
Weather-resistant
Non- colour deterioration
improved sound insulation
Frost-proof, non-flammable
can be produced with engobe or glaze effect
Can be grooved or structured
Moisture control
Fire protection
Prevents rattling of the tiles
Low on maintenance
Energy-efficient
Aesthetic appeal, minimal maintenance
Eliminate the usage of grout or sealant
Lasts longer
No efflorescence effect
Applicable in residential and commercial building
Façade elements made from clay whether in the form of facing bricks or cladding tiles, lie in subtlety, symmetry, natural elegance and timeless perfection, making this an interesting finish for modern buildings and refurbishments.